The Ebb And Flow Of War : The Gallipoli Withdrawal 1916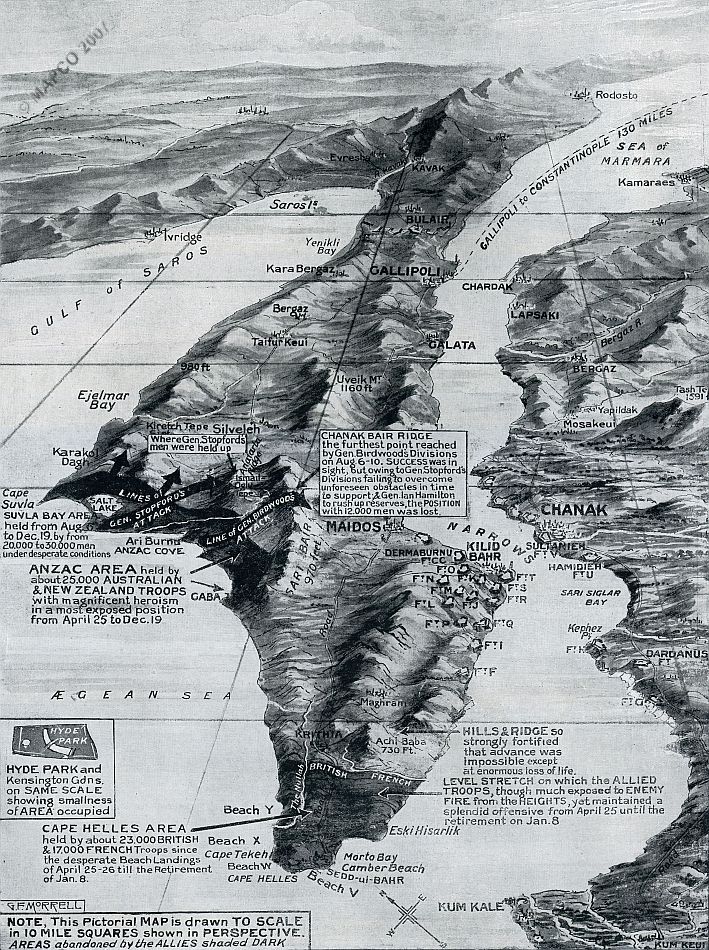 Click The Image For Enlarged View


** View More MAPCO Maps Of Gallipoli **

The Map


Full Title:

Ebb And Flow Of War : The Gallipoli Withdrawal 1916

Publisher:

The Graphic

Date:

January 15, 1916

Size:

31cm x 22.8cm (12¼" x 9")

Scale:

Represented in 10 mile squares

Extent:

Rodosto - Tash Te - Kum Kale - Cape Suvla

Description:

Published on Page 78 of The Graphic : An Illustrated Weekly Newspaper on January 15, 1916. No. 2407. Vol. XCIII.

Black & white birds-eye view of the Gallipoli Peninsula. This pictorial map of Gallipoli shows the areas held at Suvla Bay, Anzac Cove, and Cape Helles. Presented in heroic terms, the Gallipoli withdrawal is portrayed by The Graphic is such a manner as to maintain public confidence in the progress of the war.
The map shows details of the ground won and held by the Australian and New Zealand ANZAC troops around Suvla Bay and Anzac Cove, and the British and French troops at Cape Helles, along with the numbers of casualties. Also of interest is a comparison of the area covered by Hyde Park in London with the ground held by troops during the Gallipoli campaign.

Click the image below for a cropped view of the ANZAC area held by the Australian and New Zealand troops.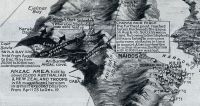 An explanation below the map of Gallipoli reads:

"The shifting centre of gravity in the Near East from the Dardanelles to Salonika and the Suez Canal zone - due to the entry of Bulgaria into the war - necessitated the evacuation of Gallipoli, and this wonderful operation was executed without the loss of a single life. Thus ends a most glorious chapter in our military history, for though all the advantages of position on high entrenched ground lay with the enemy, yet 100,000 men, with incomparable valour, maintained a magnificent offensive, and, in the words of Sir Ian Hamilton, "their progress was constant if painfully slow" in the restricted and exposed area held by us."



How To Use These Map Pages

Click the map image at the top of this page to view an enlarged image of the map.


Click To Enlarge

Once you are viewing the enlarged map image, you can click on the image to view a further enlarged image of the map.

Clicking on the map images allows you to switch back and forth ('toggle') between the normal sized image and the enlarged view of the map.