The Gallipoli Peninsula And "The Narrows" 1915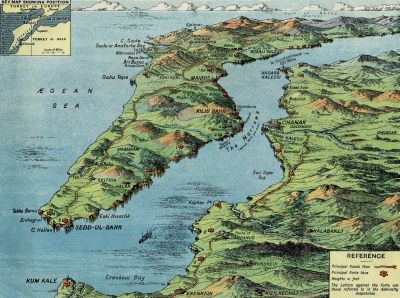 Click The Image For Enlarged Views


** View More MAPCO Maps Of Gallipoli **

The Map


Full Title:

The Gallipoli Peninsula And "The Narrows"

Mapmaker:

The London Geographical Institute

Publisher:

George Philip & Son Ltd

Printer:

The Daily Mail

Date:

1915

Size:

28cm x 22cm (11" x 8¾")

Scale:

Not Shown

Extent:

Gulf Of Xeros (Saros) - Chedeler - Kum Kale - Tekke Burnu

Description:

Published in 1915 by The Daily Mail in a booklet entitled War Panorama : 20 Birds-Eye Views & Maps Of The World Wide War.

This pictorial map of Gallipoli and The Narrows shows the location of the principal forts that were the targets of the Gallipoli campaign. The letters against the forts are those referred to in Admiralty despatches.


Click the image below to view the reference to the main pictorial map:

This booklet also includes 2 other panoramic views of the Gallipoli Peninsula, being Scene of the landing operations at the Dardanelles and The Dardanelles & Constantinople. Use the links above to view these maps.

Image Sizes and Download Times

The panorama map of Gallipoli displayed here consists of a scan of the entire map, divided into halves for speed of loading. The two separate images that make up the map have a combined size of 183KB. At 56KB dial-up connection speed the map page will take about 25 seconds to fully load.

The map includes 2 clickable enlarged views. These are accessed by clicking the halves of the map image (left and right halves). The enlarged images vary in size from 337KB to 417KB, taking around 30 seconds to load at a 56KB connection speed.

Please be patient, as it is worth the wait.