Walk 15th From Hughson's Walks Through London, 1817.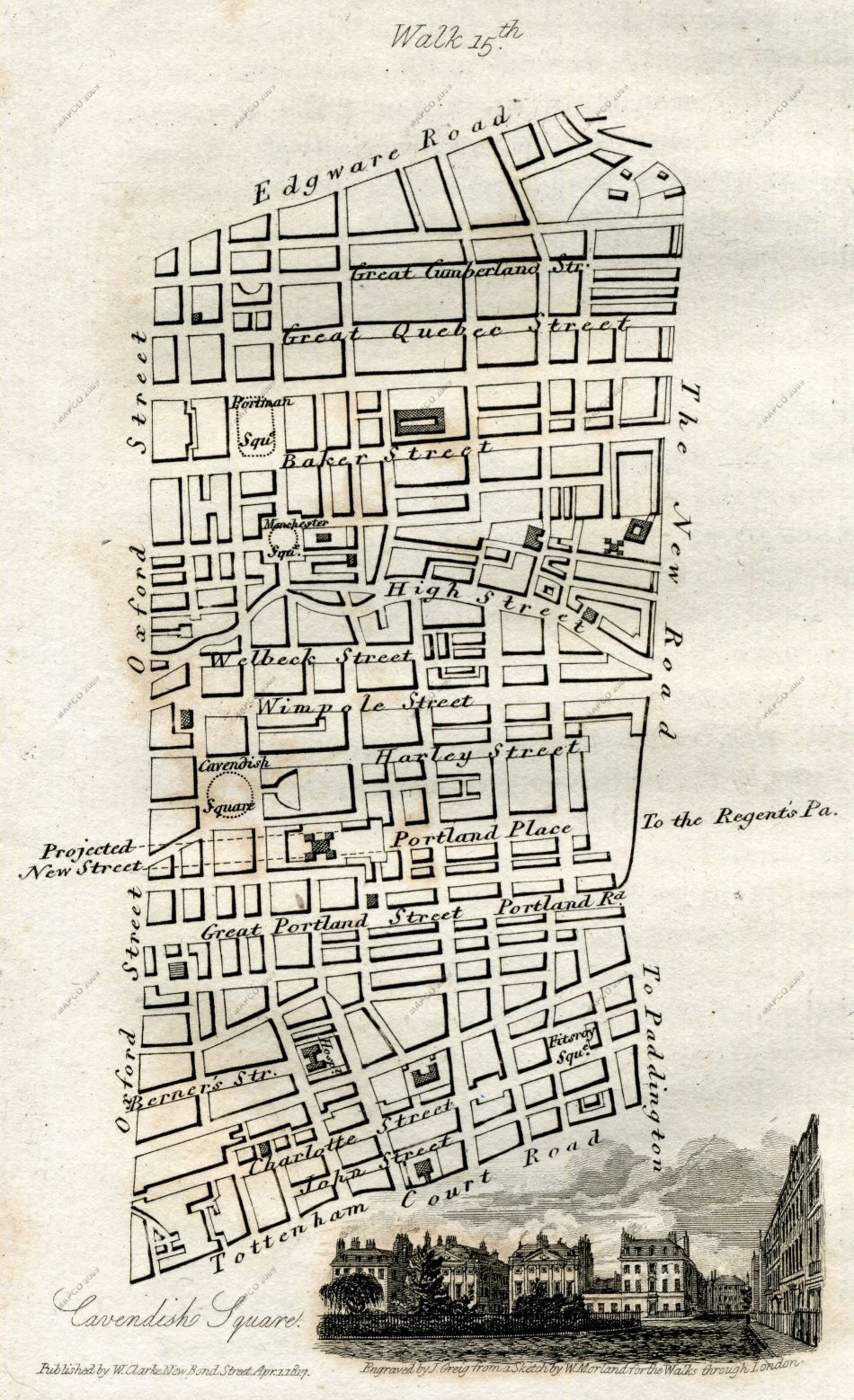 ~ Click For An Enlarged Image ~


The Map


Full Title:

Walk 15th.

Map Maker:

David Hughson

Date:

1817

Source:

Taken from "Walks Through London, Including Westminster and the Borough of Southwark, with the Surrounding Suburbs; Describing Every Thing Worthy of Observation in the Public Buildings, Places of Entertainment, Exhibitions, Commercial and Literary Institutions, &c. Down to the Present Period. Forming a complete Guide To The British Metropolis, In Two Volumes", by David Hughson, L.L.D. 1817. Printed for Sherwood, Neely, and Jones, Paternoster-Row, London; et al., 1817.

Publisher:

Published by W. Clarke, New Bond Street, Apr. 1. 1817.


Size:

13cm x 21cm (5" x 8¼" Approx)

Extent:

Edgeware Road - The New Road To Paddington - Tottenham Court Road - Oxford Street

Notes:

This walk, taken from Volume II, shows the "Projected New Street" north of Oxford Street running into Portland Place. This became the north end of Regent Street.

The page also displays an engraved view of Cavendish Square, and shows:

Edgeware Road, Great Cumberland Street, Great Quebec Street, Portman Square, Baker Street, Manchester Square, High Street, Welbeck Street, Wimpole Street, Cavendish Square, Harley Street, Projected New Street (Regent Street), Portland Place, Road To Regent's Park, Great Portland Street, Portland Road, Berner's Street, Hospital, Fitsroy Square, Charlotte Street, John Street, Tottenham Court Road, The New Road To Paddington, & Oxford Street.



How To Use These Map Pages

Enlarged View:

Click on the map image at the top of this page to view an enlarged image of this map. The enlarged image will display on a new web page.

To navigate back to the main map page (this page), click on the enlarged map image or the map title displayed at the top of the page.