Walk 13th From Hughson's Walks Through London, 1817.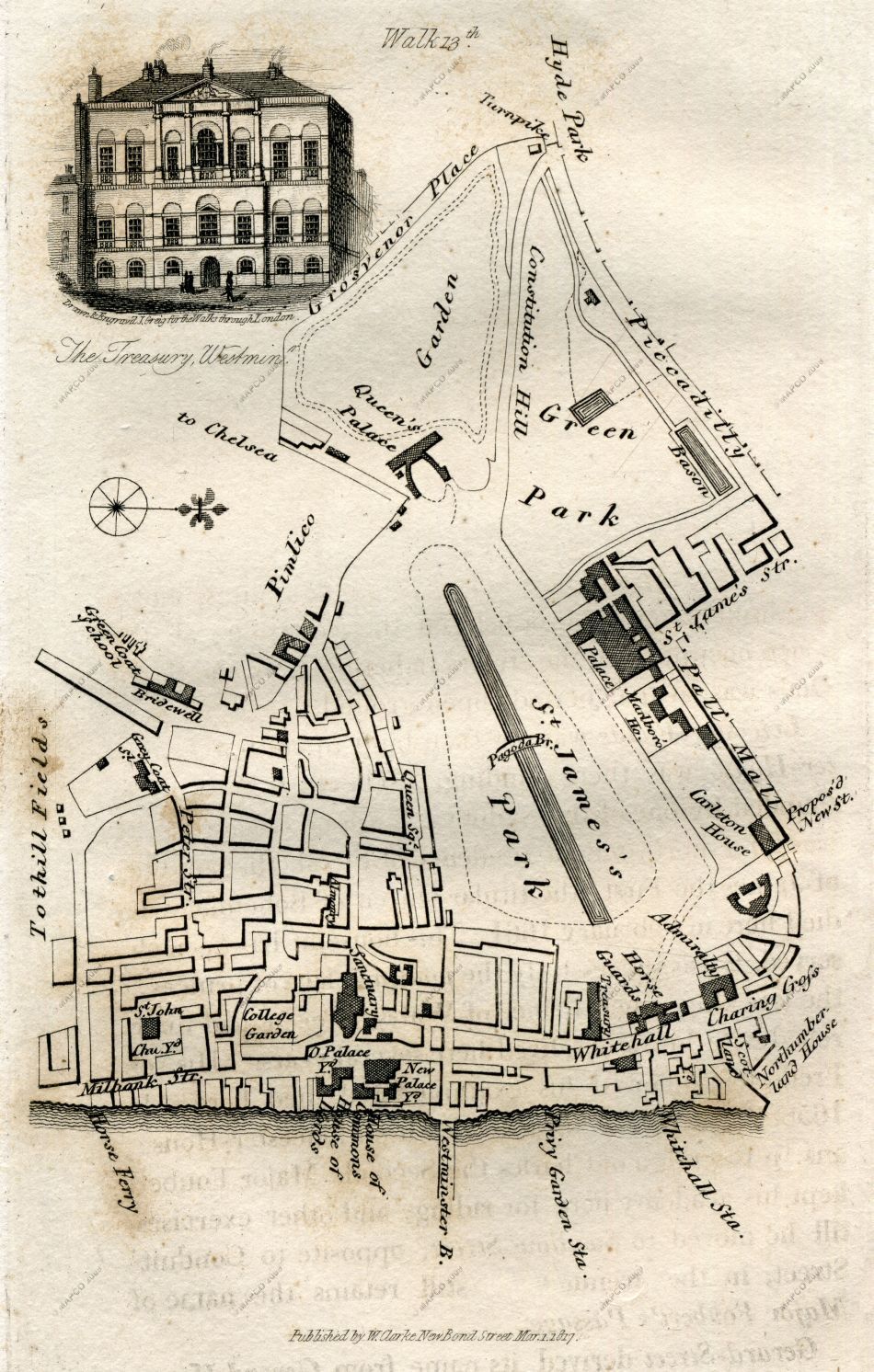 ~ Click For An Enlarged Image ~


The Map


Full Title:

Walk 13th.

Map Maker:

David Hughson

Date:

1817

Source:

Taken from "Walks Through London, Including Westminster and the Borough of Southwark, with the Surrounding Suburbs; Describing Every Thing Worthy of Observation in the Public Buildings, Places of Entertainment, Exhibitions, Commercial and Literary Institutions, &c. Down to the Present Period. Forming a complete Guide To The British Metropolis, In Two Volumes", by David Hughson, L.L.D. 1817. Printed for Sherwood, Neely, and Jones, Paternoster-Row, London; et al., 1817.

Publisher:

Published by W. Clarke, New Bond Street, Mar. 1. 1817.


Size:

13cm x 21cm (5" x 8¼" Approx)

Extent:

Hyde Park - Regent Street - Westminster Bridge - Tothill Fields

Notes:

This walk, taken from Volume II, shows the "Propos'd New St." north of Carlton House, which became Regent Street.

The page also displays an engraved view of The Treasury, Westminster, and shows:

Hyde Park Corner, Turnpike, Grosvenor Place, Piccadilly, Queen's Palace, Garden, Constitution Hill, Green Park, The Road To Chelsea, Bason, Pimlico, Green Coat School, Bridewell, Tothill Fields, Grey Coat School, Peter Street, Almonry, Queen Square, St James's Park, Pagoda Bridge, St James's Street, Pall Mall, Palace, Marlborough House, Carlton House, Proposed New Street (Regent Street), St John Church Yard, Horse Ferry, Millbank Street, College Garden, Old Palace Yard, Sanctuary, New Palace Yard, House of Lords, House Of Commons, Westminster Bridge, Privy Garden Stairs, Admiralty, Horse Guards, Treasury, Whitehall, Charing Cross, Scotland Yard, Northumberland House, & Whitehall Stairs.



How To Use These Map Pages

Enlarged View:

Click on the map image at the top of this page to view an enlarged image of this map. The enlarged image will display on a new web page.

To navigate back to the main map page (this page), click on the enlarged map image or the map title displayed at the top of the page.