Hundred Of Onkaparinga, South Australia, 1899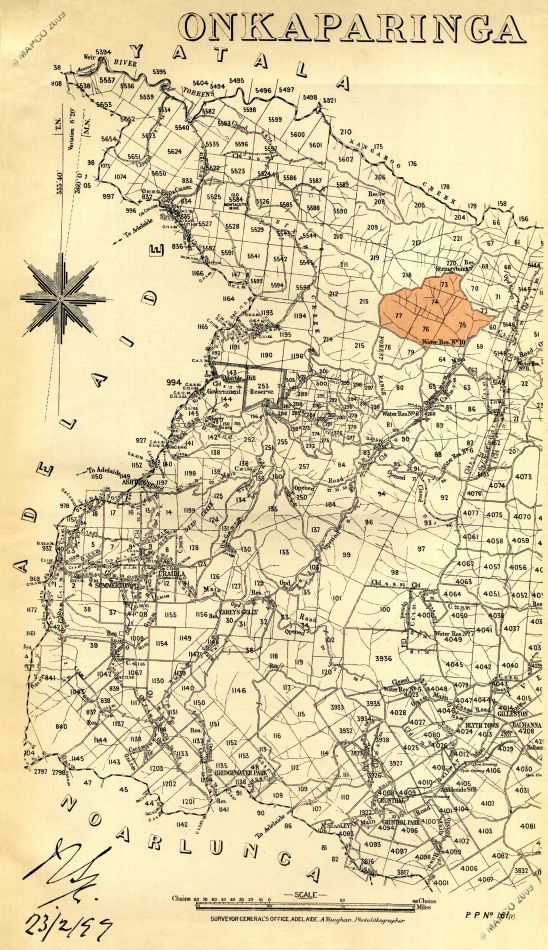 ~ Click For An Enlarged Image ~


The Map


Full Title:

Onkaparinga. P.P. No. 161(1)


Map Maker:

W. Strawbridge, Surveyor-General

Engraver:

A. Vaughan, Photolithographer

Publisher

Surveyor General's Office, Adelaide

Date:

23 Feb 1899

Source:

Taken From South Australian Parliamentary Paper No. 161 -
Land Purchased Under Closer Settlement Act

Size:

32.5cm x 19.8cm (12¾" x 7¾")

Scale:

1" : 1 Mile

Extent:

Kangaroo Creek - Balhanna - Grunthal Park - Summertown

Description:

This map shows the Hundred of Onkaparinga, spanning the Adelaide Hills, in the year 1899. Produced by the Surveyor-General, this map accompanied Parliamentary Paper No. 161 relating to the purchase of land at Forest Range known as Woolshed Paddock.

Details are:

I. Woolshed Paddock, Castambool Estate, about three miles north-easterly from Marble Hill, sections 73, 74, 75, 76, and 77, hundred of Onkaparinga. Area, 656 acres garden and grazing land.
II. Vendor - A.G. Phillips.
III. Price paid (including improvements), £984; land tax assessment, £1 13s. 4d.

It is interesting to note that in June 1900 MAPCO's ancestors purchased the Crown Lease for Sections 76 and 77. By that time Section 76 had been subdivided as Sections 364 and 365.

Details of this transaction are recorded in the book The Hale Connection. From Wokingham and Woolwich to Portland and Adelaide c1700-1999, by Joan Hale and David Hale (Privately Published, Adelaide, South Australia, 1999):

"In 1898 an enterprising man named Alfred George Phillips purchased the property of Castambul Estate at Forest Range in the Adelaide Hills, the deceased estate of Price Maurice. Phillips divided the property into Homestead Blocks for sale by public auction by Bagot, Shakes, & Lewis, Ltd. at the Sale Rooms of Messrs. Luxmoore, R.J. Croombs & Co., Limited, in Gilbert Place, Adelaide. On January 19, 1899, the Government purchased a section of the land at Forest Range containing 656 acres, known as "Woolshed Paddock". In 1900 William Hale, showing the same pioneering spirit as his father and grandfather had shown by seeking a new life in Australia, leased from the Government two of the larger blocks, a total area of 179 acres. He officially became the registered Lease Holder of the property on 30 June 1900, envisaging a profitable future on the land for his three sons. At the time that the Government purchased Woolshed Paddock in 1899 it was described as:

Chiefly hilly land, heavily timbered with gum and stringybark, but intersected by numerous gullies of rich sandy soil, well-watered, and admirably adapted for garden purposes.

Part of the terms of the Lease agreement was that improvements representing a house, out buildings, fencing, and clearing of trees to the value of £18 per year had to be maintained for the first five years. William agreed to pay the yearly rent of £12 for the lease, plus the £18 for improvements."

(Taken from The Hale Connection, Chapter 13, pps 103-104)


I do hope that you find this map of interest!





How To Use These Map Pages

Enlarged View:

Click on the map image at the top of this page to view an enlarged image of this map. The enlarged image will display on a new web page.

Click on the map image displayed to view a further enlargement of this map.

Click on the map title displayed at the top of each page to navigate back to the main map page (this page).

Supersized View:

Click on the small thumbnail map image above to view a very large, highly detailed image of this map. The image file size is quite large, being 3.6Mb, and measuring 3199 pixels wide x 5528 pixels high. This highly detailed image will display on a new web page.

Click on the map title displayed at the top of each page to navigate back to the main map page (this page).