Map of Scotland
by S. Lewis & Co., London
c1840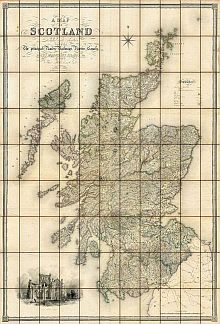 Click Here For A Large View Of This Map
(* Dial-Up Users Please Note - This Is A Large Page! *)


The Map


Full Title:

A Map of Scotland Divided Into Counties Shewing The Principal Roads, Railways, Rivers, Canals, Lochs, Mountains, Islands &c. On A Scale Of Five Miles To An Inch.

Map-Maker:

Drawn By F.A. Carrington. Hills By G.W. Carrington. Engraved By I. Dower. Etched By T. Harwood.

Publisher:

Published By Samuel Lewis & Co., 87 Aldersgate Street, London.

Date:

c1840

Size:

134cm x 193.5cm

Scale:

1" : 5 miles

Extent:

Scotland

Description:

Research suggests that Lewis's Map Of Scotland was first issued in 1839 as a supplementary atlas volume to Samuel Lewis's Topographical Dictionary of Scotland.



The map consists of three separate sheets measuring 64.5cm x 134cm, each bound in black straight grained Morocco leather with gilt embossing to boards and spines. The Morocco leather bindings measure 14cm x 22cm.

Each map is dissected into 33 sections and laid down on linen, making 99 sections in total. The three folding maps together measure a massive 134cm wide x 193.5cm high. The Lewis map is finely engraved, and has a lovely cartouche of Melrose Abbey in the bottom left corner.

There are several contemporary hand-written ink notes on this map, naming places obviously visited by one of the map's previous owners. These include Glomak Fall and Glasha Forest in Inverness Shire, plus the names and locations of Inns and Lodges stayed in during the tour. Nearby towns have also been underlined, including Fort William and Fort Augustus, and also Porttree, Bracadale and Strath on the Isle of Skye.

The compass rose image used for the background of the MAPCO website comes from Lewis's Map of Scotland. You can

view the image

by clicking on the compass rose thumbnail to the right.

MAPCO will attempt to determine an exact date for this copy of the map in the coming months. Any assistance with accurately dating this map would be greatly appreciated.

This is a very interesting and detailed map, and a great research aid for Scottish genealogists and historians.




View The Compass Rose Image

Image Sizes and Download Times

The images of Lewis's Map Of Scotland displayed here are scans of each section of the map, divided into quarters for speed of loading. The four separate images that make up each map section have an average combined size of approximately 375KB. At 56KB dial-up connection speed each page will take about 60 seconds to fully load, although some pages can take approximately 100 seconds to load.

The navigation image for this map does not include a 'position marker' for the map section being viewed. This approach was necessary to keep the loading time as short as possible for dial-up users. So, unlike the other maps displayed on the site, you will need to pay more attention to exactly where you are when viewing the Lewis map.

This map also includes 4 clickable enlarged views of each map section. These are accessed by clicking the quarters of each map section image (top left, top right, bottom left, and bottom right quarters). The enlarged images vary in size from 200KB to 600KB, taking between 40 seconds and 100 seconds to load at a 56KB connection speed.

Please be patient, as it is worth the wait.