Port Adelaide 1839

Taken From
Colonel Light's Survey
Of The District Of Adelaide 1839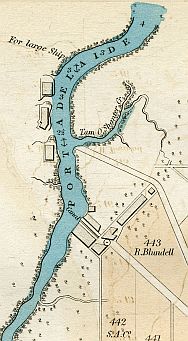 ~ Click For An Enlarged Image ~


The Map


Full Title:
Publisher:

John Arrowsmith, 35 Essex St., Strand, London

Date:

Febry 18th, 1839

Source:

Third Annual Report Of The Colonization Commissioners Of South Australia 1839.
Ordered, by the House of Commons, to be Printed 13th May, 1839.

Size:

64cm x 55cm (25¼" x 21½")

Scale:

1½" : Approx 1 British Statute Mile

Extent:

Gepps Cross - Athelstone - Flagstaff Hill - Semaphore

Description:

Folding paper map of Adelaide, South Australia, and the Adelaide Plains. Hand coloured. Folds into Report Of The Colonization Commissioners. Disbound but in very good condition.
This beautiful map of Port Adelaide is an enlarged view taken from Colonel Light's survey of the Country Sections of the Adelaide Plains, published in 1839.

It records the depth of the Port River, and shows the mangroves along the River's edge and along Tam O'Shanter Creek. It also shows the location of the early South Australia Company buildings, and the first Canal, which was approximately 11 yards wide and 440 yards in length (approximately 10 metres x 400 metres).

Enjoy this interesting and historially important early plan of Port Adelaide.